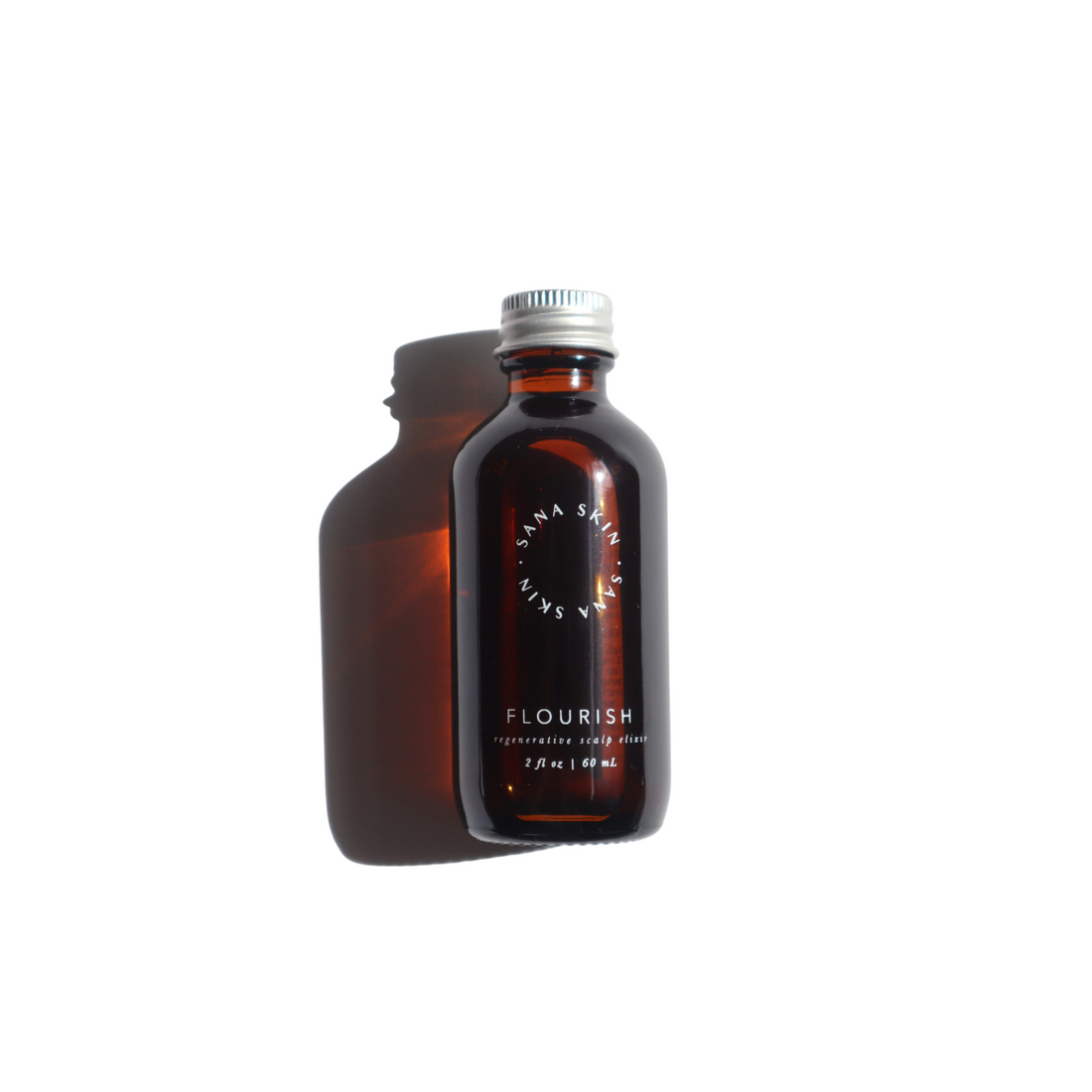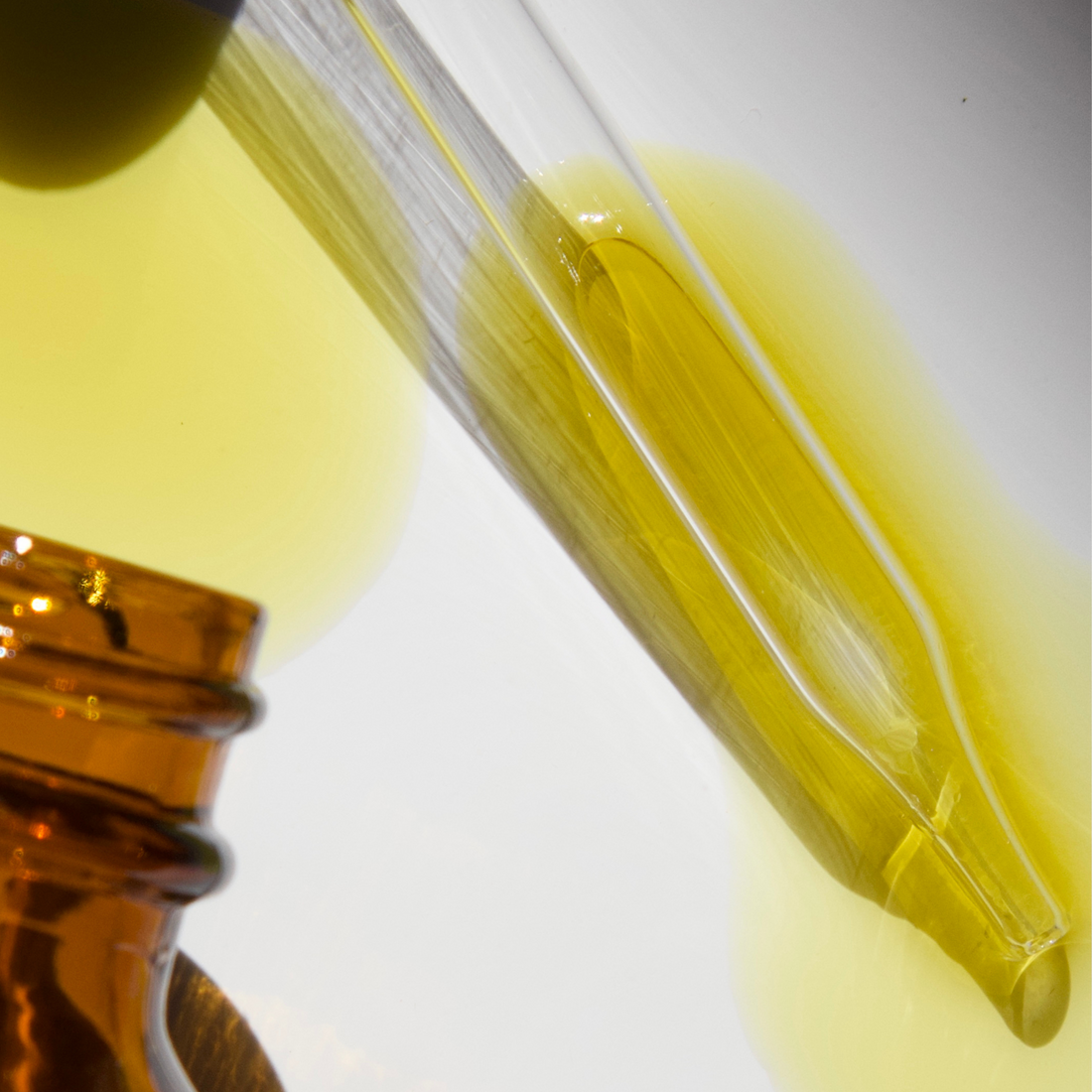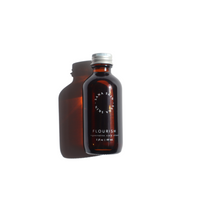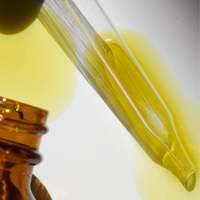 Flourish Regenerative Scalp Elixir
Description
Benefits
the regimen
ingredients
Introducing Flourish: a formula centered around nourishing the soil of your follicles for flourishing hair health. Packed with stimulating, regenerative, and nourishing botanicals, this regenerative elixir touches on multiple mechanisms by which research suggests the hair cycle is disrupted -- delivering noticeable changes in hair health.
For individuals with medical conditions: please consult a physician prior to confirm using products that stimulate blood flow is suitable for you.
Nourishes the scalp with biocompatible fatty acids. Dry, flaky scalp is a sig of a compromised skin barrier, just like on the face. By supplying the skin with barrier-repairing, biocompatible fatty acids, Flourish can support optimal scalp health.
Supports healthy scalp antioxidant defense. Flourish is packed with antioxidant compounds like thymoquinone, COQ10, and vitamin E. These antioxidants directly combat free radicals which studies have shown can alter the hair cycle.
Supports healthy protein signaling at a follicular level. Castor oil took the Internet by storm with hundreds of users touting its hair growth-supporting effects. Lesser known, however, is how castor oil may accomplish this: by balancing growth-signaling proteins within the follicle environment.
A cleansed scalp is the best foundation for Flourish to do its work. When build-up is present from product use or dead skin cell accumulation, it makes it hard for the active ingredients in the Flourish elixir to reach deep into the hair follicle.
I recommend washing your hair with a gentle, low-poo cleansing product every one to two days.
Using Flourish at least twice a day (i.e. morning and evening), for a minimum of 3 times per week achieves the best results. If applying Flourish on a wash day, apply at least one hour before showering to ensure Flourish has plenty of time to stimulate the scalp.
If you have trouble getting oils out of your hair (I totally feel you), try this: before your shower, apply your favorite conditioner, cowash, or deep conditioner to the areas where you've applied Flourish. Then, brush through the rest of the hair until evenly distributed. In the shower, rinse away the conditioner and follow with your in-shower hair care routine as normal. This should effectively remove the oil from the hair without residue!
Ricinus communis (Castor Seed) Oil*, Citrullus lanatus (Watermelon Seed) Oil*, Squalane, Rosa canina (Rosehip Seed) Oil*, Nigella sativa (Black Cumin Seed) CO₂ Extract*, Rosmarinus officinalis (Rosemary) CO₂ Extract*, Mentha piperita L. (Peppermint) Oil*, Achillea millefolium (Yarrow) Oil*, Mixed tocopherols, Cedrus atlantica (Cedarwood) Oil*, Ubiquinone, Tetrahexyldecyl Ascorbate.

*Organic
see what people are saying
★★★★★
So many new baby hairs! I started using Flourish and have noticed so many new baby hairs growing around my hairline region which is where I noticed the most loss.
KEY INGREDIENTS
Black cumin seed oil
As a powerful anti-inflammatory + antioxidant oil with antimicrobial properties, black cumin seed oil offers soothing + regenerative benefits for irritated, itchy, and inflamed scalps.
Vitamin e
Vitamin E is a powerful molecule with high bioavailability to the skin + scalp. Through its ability to effectively neutralize free radicals, vitamin E helps address obstacles that prevent healthy hair cycling.
COQ10
A regenerative, anti-aging molecule, COQ10 has been shown to counteract the effects of aging on the hair follicle.
Integrative Herbal Blend
A synergistic combination of herbal extracts, inspired by traditional therapies for hair health + supported by modern research - designed to optimize nutrient delivery to hair follicles.
A note from Sophia
Hair loss was a symptom that shocked me at 16.
At that point, I had no idea that hair loss could happen at my age. And yet, I was starting to lose hair at my temples and my previously thick, long hair was becoming thinner by the day. Needless to say, the shock of hair loss at such a young age inspired me into action.
In the years that followed, I tried many different remedies for my hair loss. Changes to diet helped, scalp massages helped, and so did castor oil. But, I was always looking for a little extra oomph in my routine in the hopes of getting my hair back to its natural state.
After spending a few years diving into the hair loss research world (which actually led to performing formal research on a dermatological research team, resulting in a few peer-reviewed published papers on hair loss), I decided to experiment with some formulations for my own personal use. When I started sprouting new baby hairs after just a few weeks of use, I knew it wasn't fair to keep it to myself.
And, so, Flourish was born!