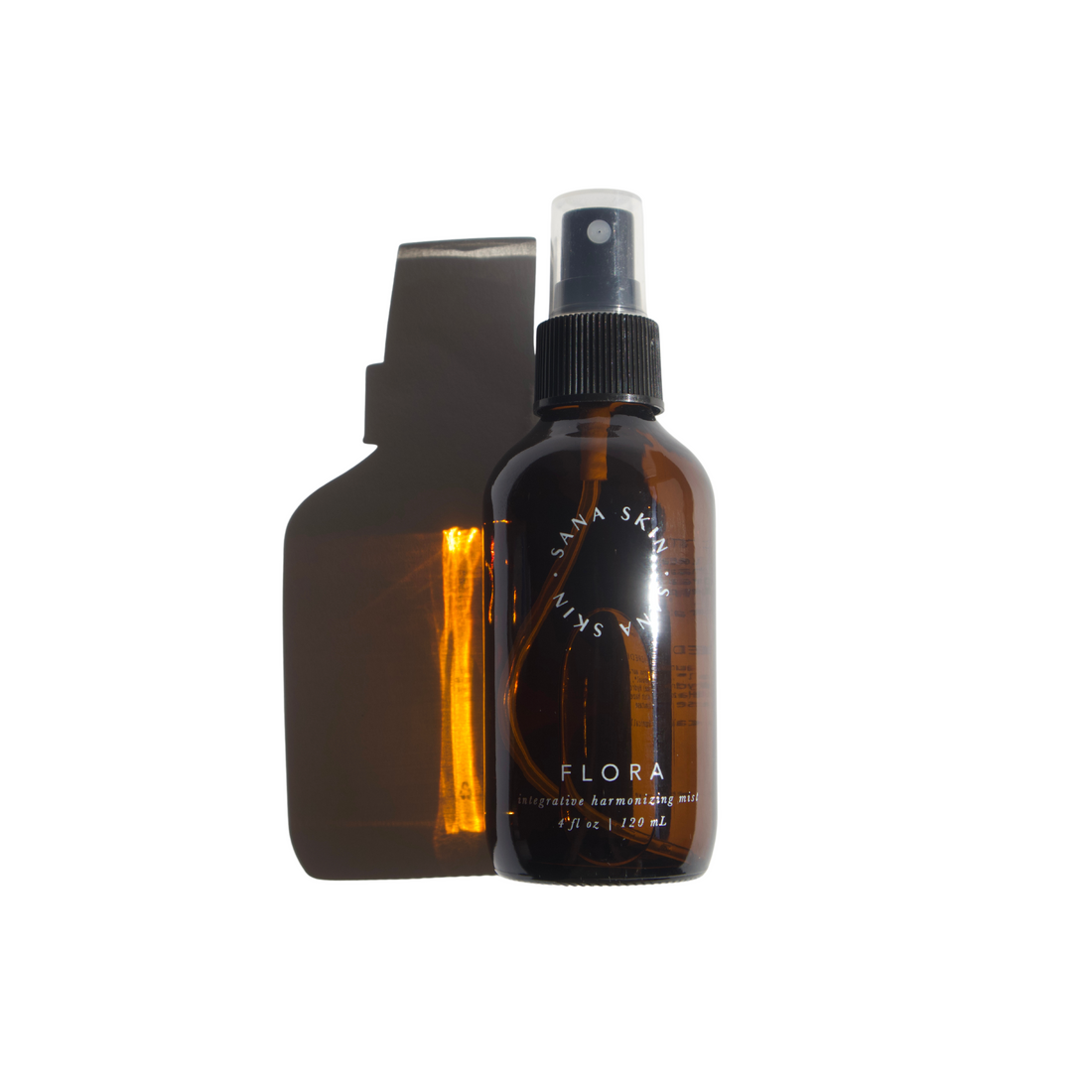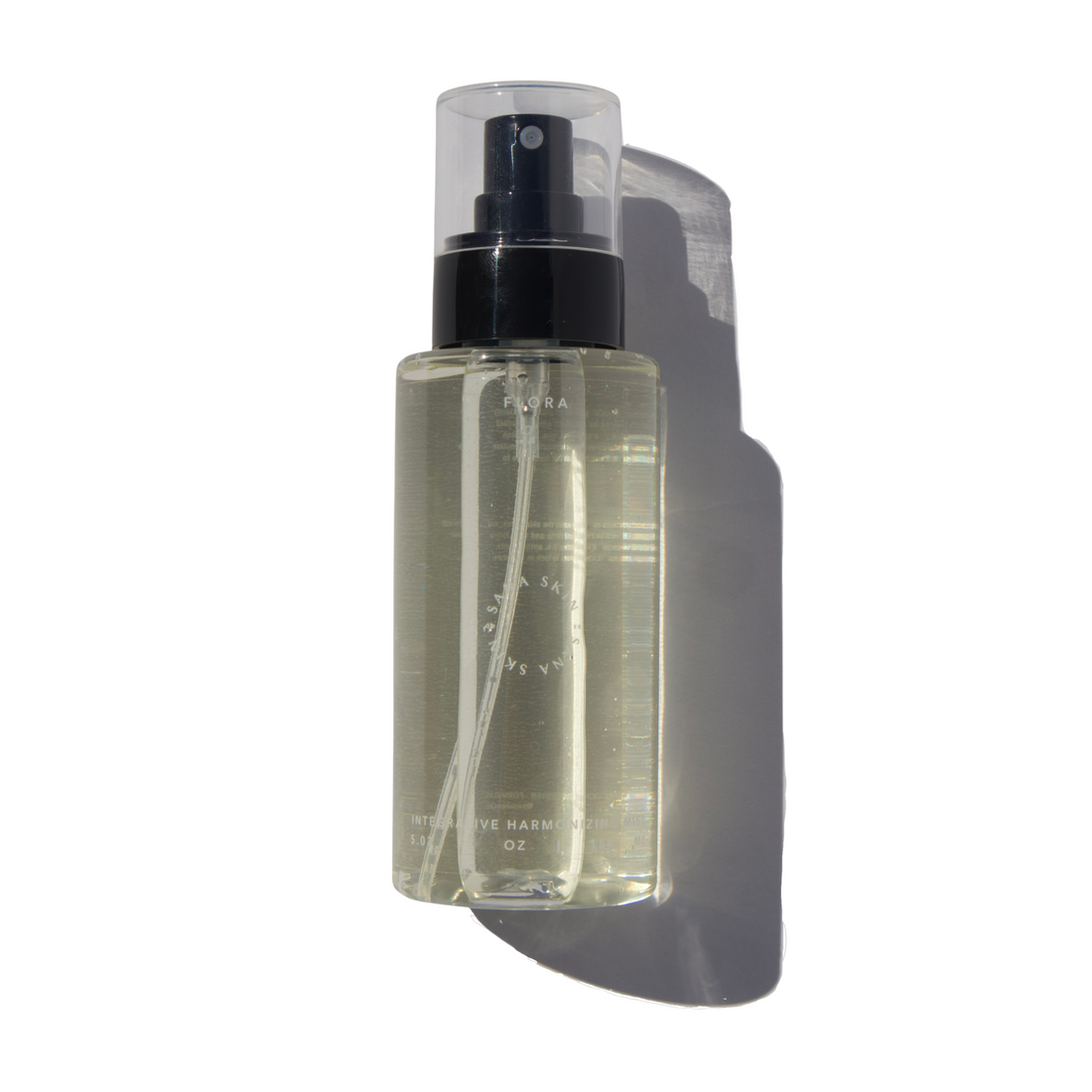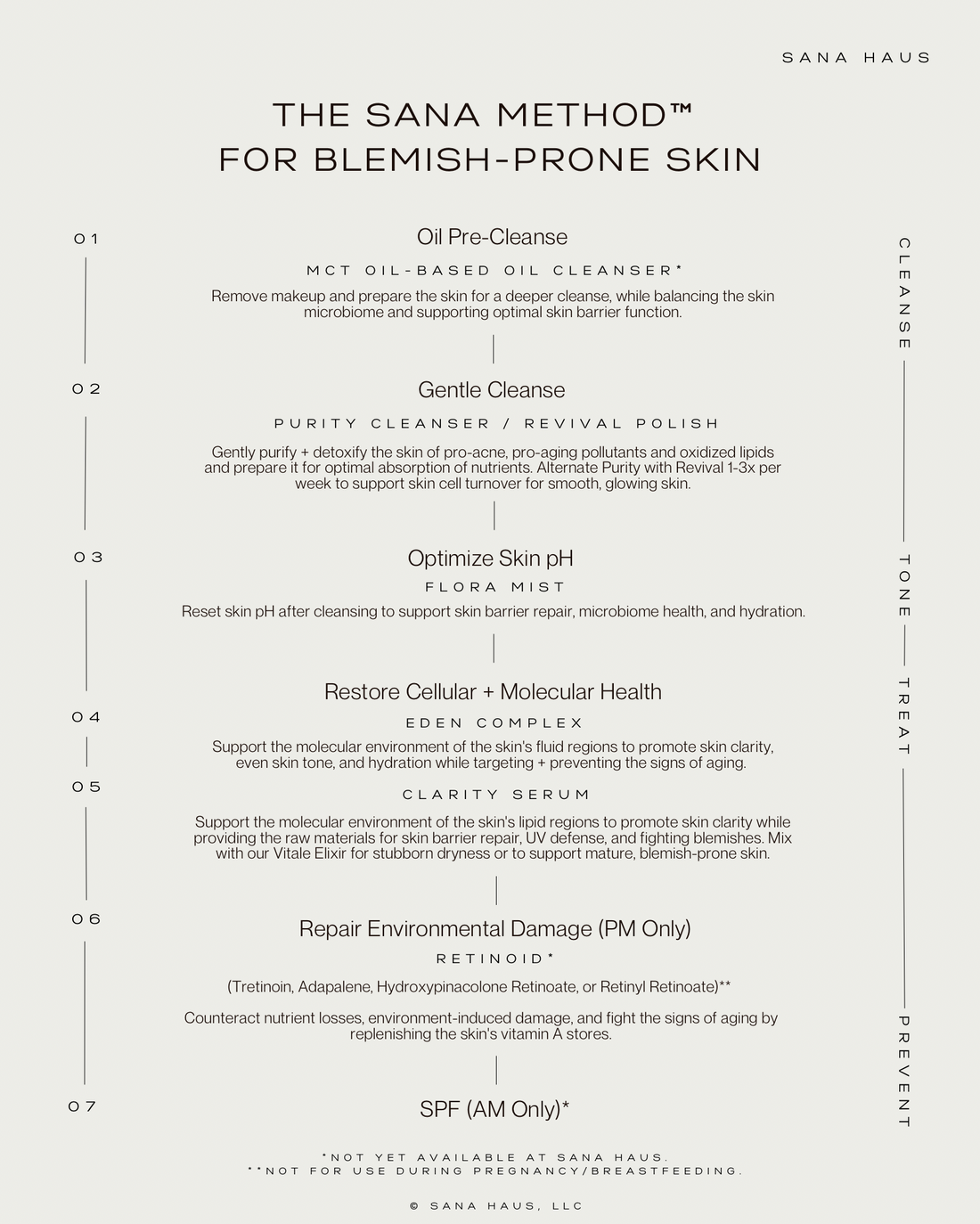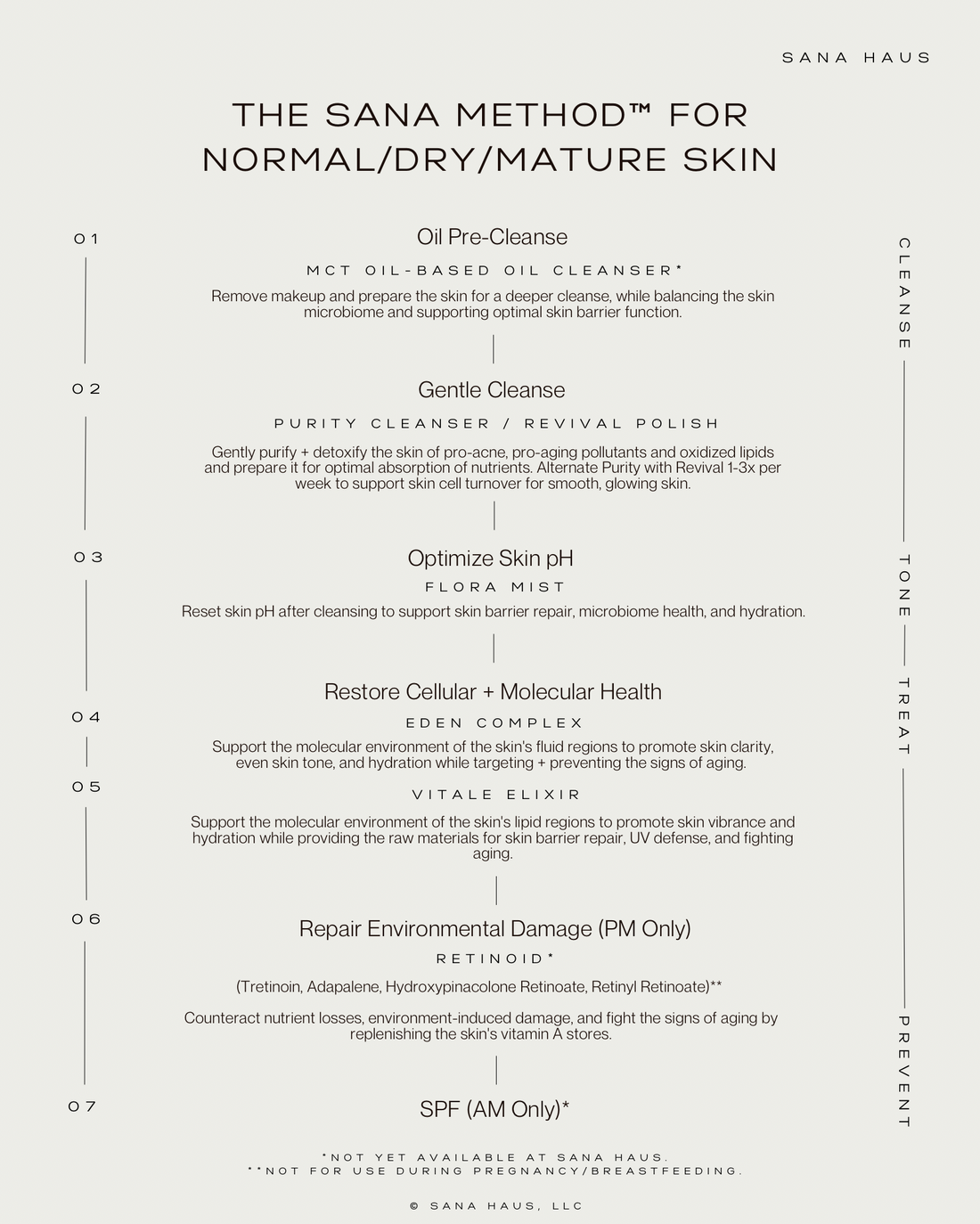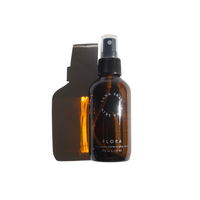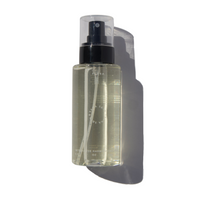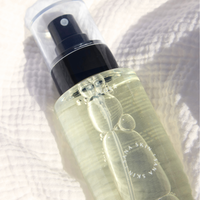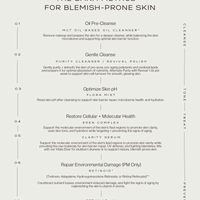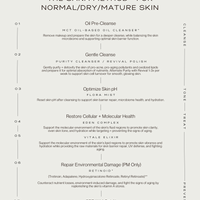 Flora Integrative Harmonizing Mist
Description
Benefits
the regimen
ingredients
Directions
Want to know what to expect from a SANA SKIN regimen? Why these products are different? Questions about oils? See our super-informative FAQ page here!
A drink of (flower) water for your skin. Gently tone + hydrate the skin with artisan-distilled botanical waters of neroli, rose, and witch hazel while biomimetic superoxide dismutase neutralizes free radicals that contribute to aging + blemishes. The naturally acidic pH of hydrosols, created during the distillation process, encourages the skin into its optimal pH (between 4.4 and 5.5). In turn, this pH balance helps to optimize skin barrier repair, microbiome balance, and skin cell turnover.
Flora is made without direct acids, alcohol, or glycerin, some of which may irritate sensitive and acne-prone skin types.
For all skin types.
EWG Rating: 1 
Supports the skin's antioxidant defense. Studies show that pretreatment of the skin with superoxide dismutase protects against the oxidative effects of UV rays. Superoxide dismutase is also responsible for quenching a powerful free radical, superoxide -- a free radical shown to contribute to the acne formation process.
Encourages skin barrier repair and a healthy skin microbiome. The skin's natural pH sits between 4.5 and 5.5. This slightly acidic pH allows for the production of ceramides that make up the protective skin barrier as well as the maintenance of a healthy skin microbiome. Flora contains the naturally acidic hydrosols of neroli, rose, and witch hazel, encouraging the skin back into its optimal pH range without the use of direct acids.
References:
1. Miyachi, Y., Imamura, S., & Niwa, Y. (1987). Decreased skin superoxide dismutase activity by a single exposure of ultraviolet radiation is reduced by liposomal superoxide dismutase pretreatment. The Journal of investigative dermatology, 89(1), 111–112. https://doi.org/10.1111/1523-1747.ep12580453
2. Grange, P. A., Chéreau, C., Raingeaud, J., Nicco, C., Weill, B., Dupin, N., & Batteux, F. (2009). Production of superoxide anions by keratinocytes initiates P. acnes-induced inflammation of the skin. PLoS pathogens, 5(7), e1000527. https://doi.org/10.1371/journal.ppat.1000527
An optimal skincare regimen for restoring skin health and clarity always includes three critical components: a gentle cleanser, an ingredient to balance skin pH, and an oil specifically rich in linoleic acid. Together, these three components ensure the skin is detoxified, repaired, protected, and hydrated, and are further enhanced by targeted actives such as antioxidants, antimicrobials, and exfoliants.
As the SANA SKIN community has expanded, we have learned a lot from our customers. Together, through trial and error, we've identified the most effective (and most problematic) ingredients for various skin types, including and most importantly, acne-prone skin. This has allowed us to expand our offerings in a community-led way, releasing formulas that are not only what our customers want to see from us, but also the products with the ingredients that our customers have come to know and love through experience.
Combined with intensive research on skin physiology, we believe we have curated a simple, holistic, yet, effective 3-step system that encompasses all the necessary components for healthy, radiant, clearer skin.
For acne-prone skin, we recommend a combination of our Purity cleanser, Flora mist, and Clarity serum. If you are sensitive to strong smells, we recommend swapping out or diluting the Clarity serum with our Vitale elixir.
For all other skin types, we recommend a combination of our Purity cleanser, Flora mist, and Vitale elixir.
4 fl oz / 120 mL (~30-120 day supply, depending on use)
Citrus aurantium var. amara (Neroli) Hydrosol*, Rosa x damascena (Bulgarian Rose) Hydrosol*, Hamamelis virginiana (Witch Hazel) Hydrosol*, Superoxide Dismutase *Organically grown.
Our hydrosols are artisan distilled in small batches, from plants organically grown on small family farms and co-ops.
After cleansing, mist Flora all over areas that need some love. Then, seal in the hydration with our Clarity or Vitale oils. Repeat morning and night for best results. Product can be stored in the refrigerator to prolong shelf life.
see what people are saying
★★★★★
Flora smells amazing and feels so refreshing and nourishing on my skin. I LOVE it!! It really seems to balance my skin and help blemishes heal quickly.
★★★★★
I love this toner! It brightens my skin, is refreshing and smells like a fresh bouquet of roses.
★★★★★
I have only used Purity, Harmonizing Mist, and Clarity for 8 days. These products = best I've ever used. My skin trouble began 45 years ago (!!!) with cystic acne. No dermatologist, no drug, no natural product or supplement comes close to these!
KEY INGREDIENTS
Neroli Hydrosol
Traditionally used for blemish-prone skin, neroli hydrosol's low pH encourages skin barrier repair + microbiome balance. The aromatic component of neroli hydrosol also contains blemish-fighting phytochemicals like farnesol and sabinene, making it highly compatible with inflamed, blemish-prone skin types. Our artisan neroli hydrosol is distilled from hand-picked neroli flowers on a family farm.
Biomimetic Superoxide Dismutase
Superoxide dismutase's enzymatic antioxidant activity helps to quench free radicals like superoxide, going to work in inflamed + blemish-prone skin and restoring skin clarity.
Rose Hydrosol
Our artisan organic rose hydrosol is distilled in copper stills on the Bulgarian farm where they are grown, producing an exceptional, fragrant, high-quality rose hydrosol. The constituents of rose hydrosol offer hydrating, calming, soothing properties - a perfect ingredient for dry, dehydrated, + stressed skin.
A note from Sophia
When I set out to create a toner formula for the brand...
I knew I wanted to create a product to expand your toner repertoire instead of just another AHA or BHA-based product. Instead, I chose a botanical hydrosol base, boasting a naturally low pH (a product of the distillation process) that provides the same toning action without the deep exfoliating properties of AHAs and BHAs. This way, you never have to skip out on the crucial toning step for fear of overexfoliation, irritation, or UV-sensitivity, but you don't have to give up your favorite exfoliating acid, either. Think of Flora as your foundational toner, providing gentle toning support, and use your exfoliating whenever your skin needs an exfoliation boost!