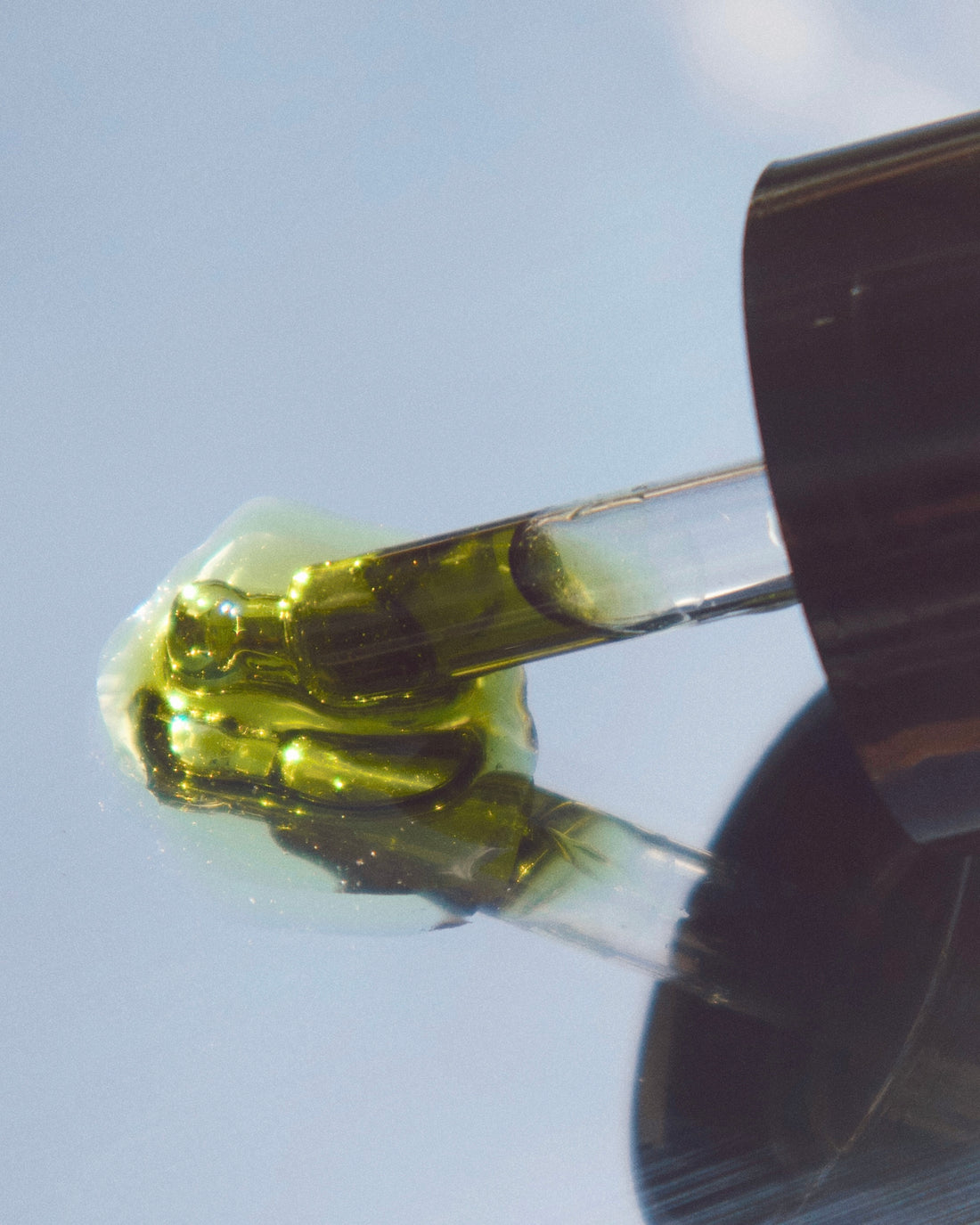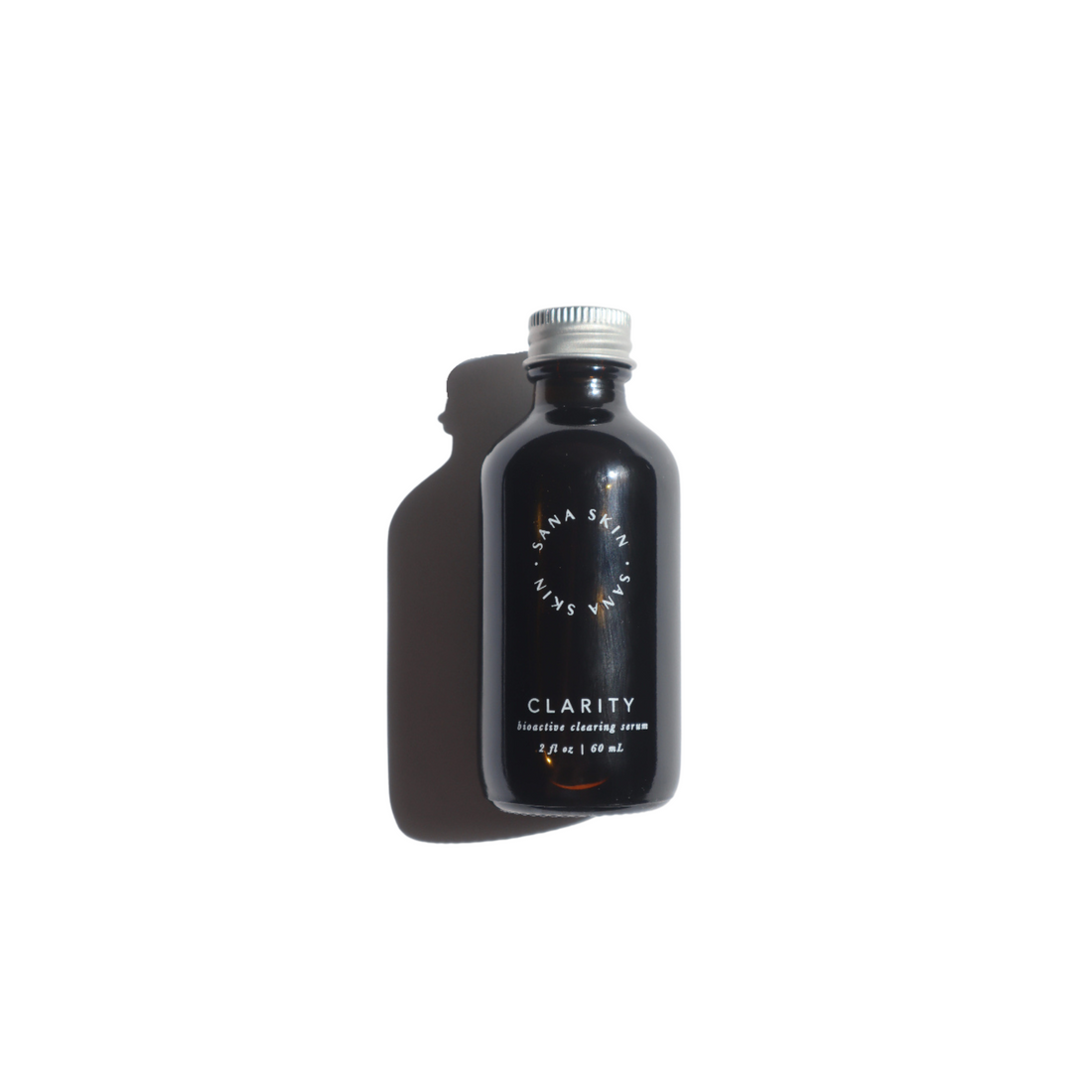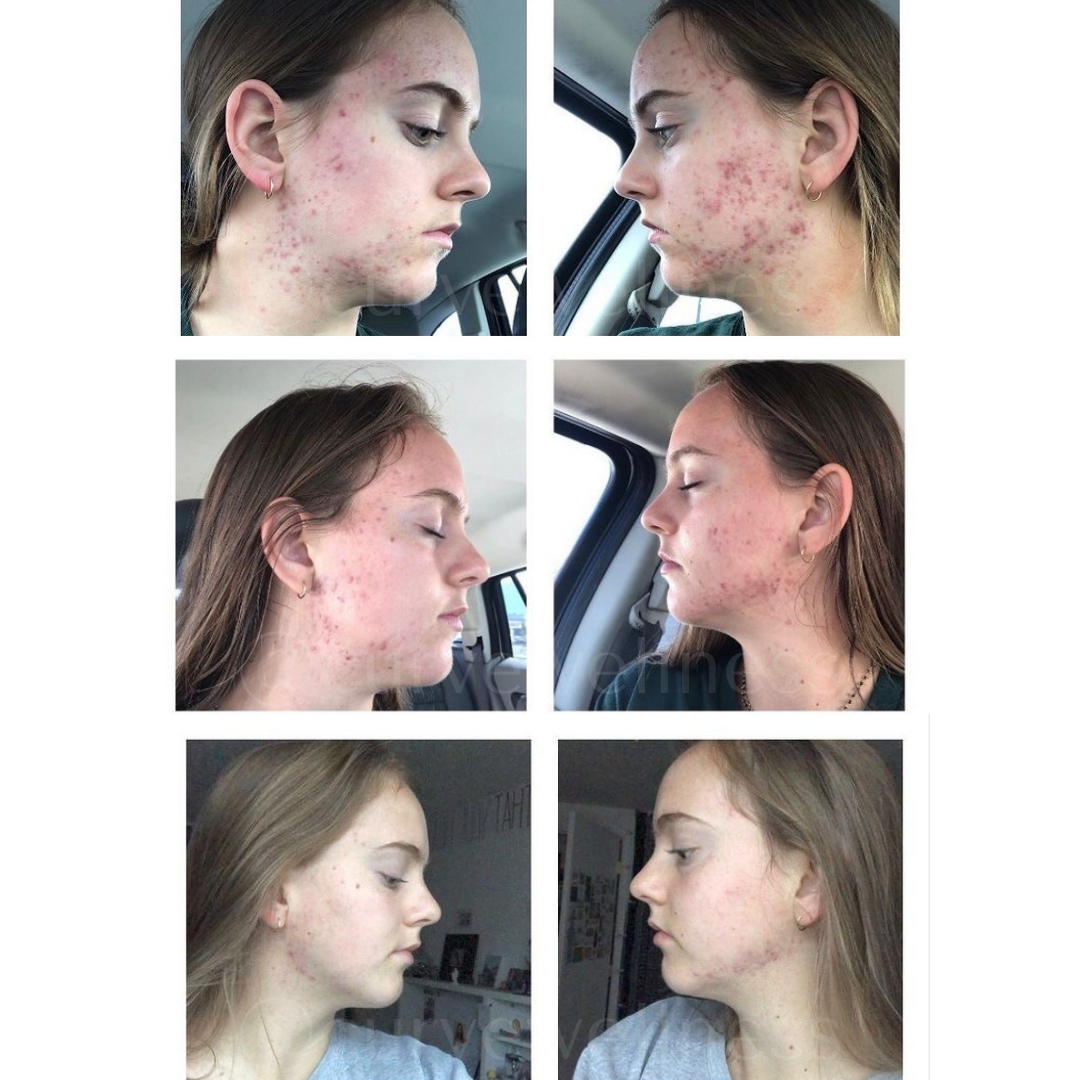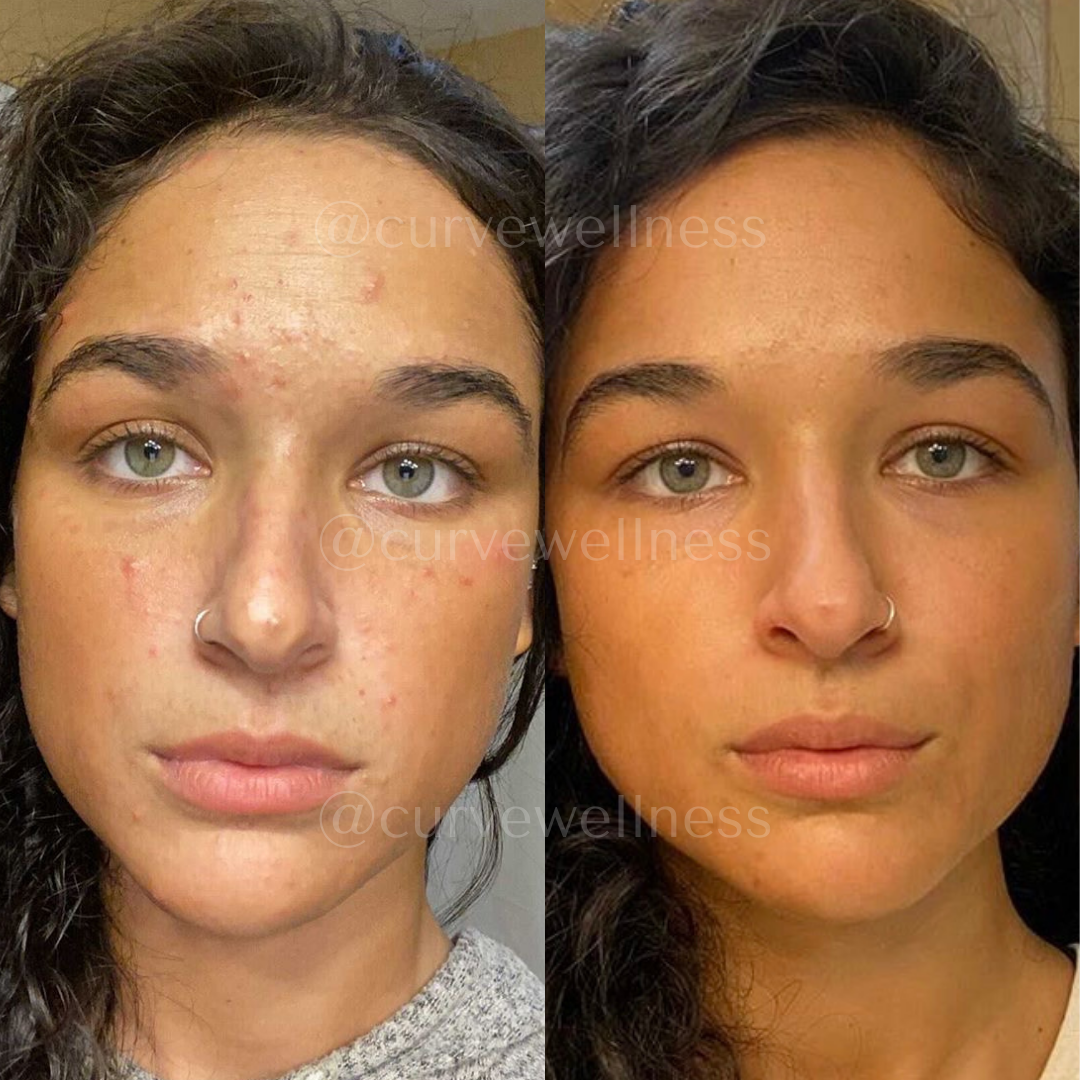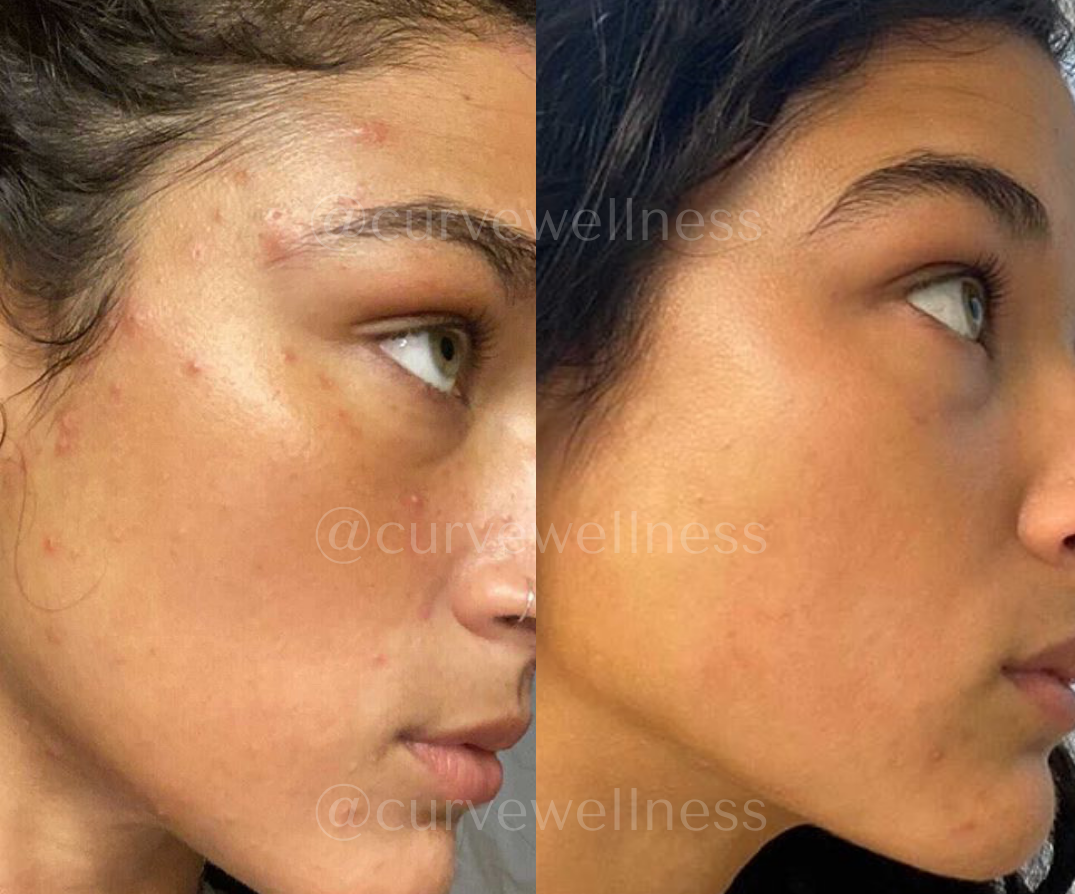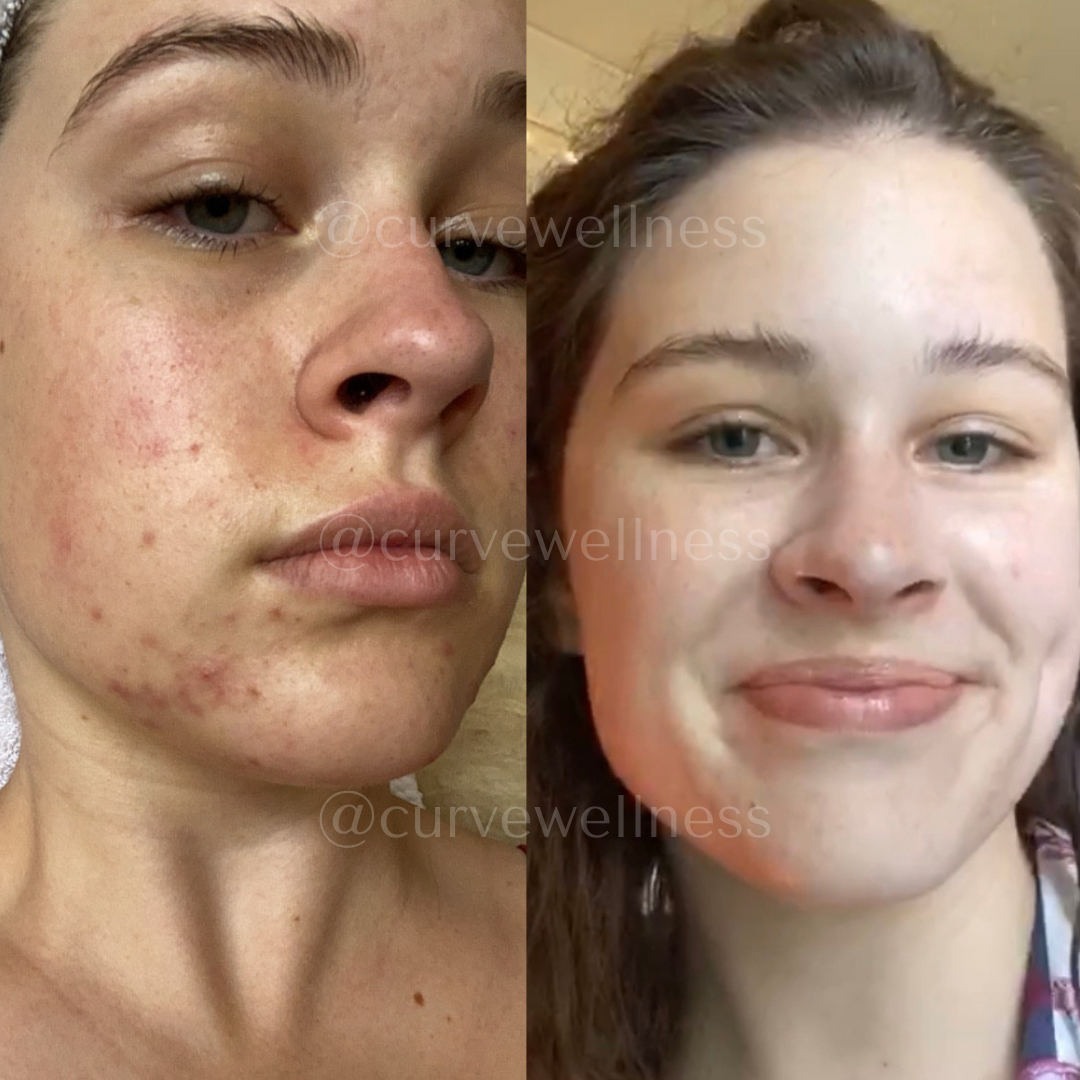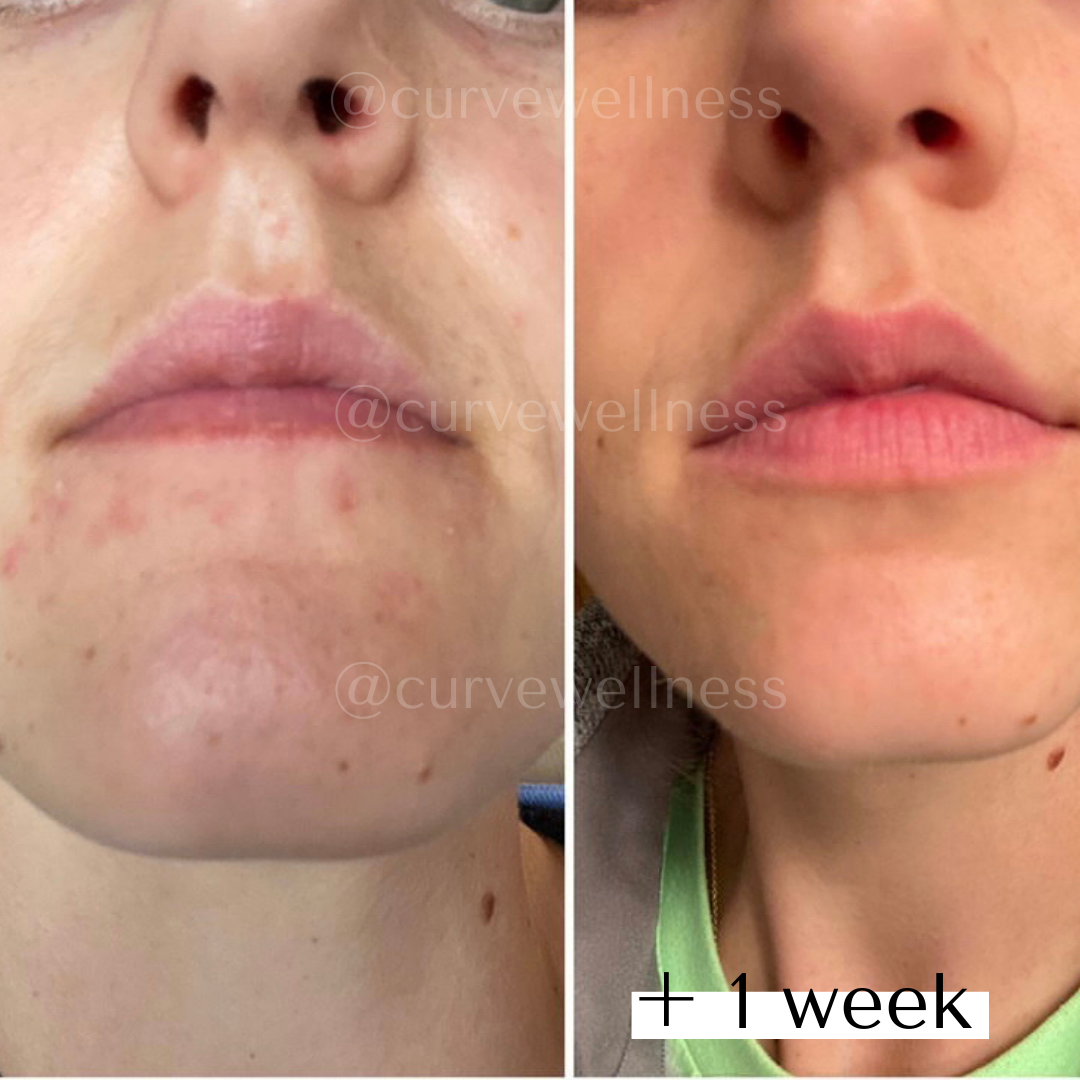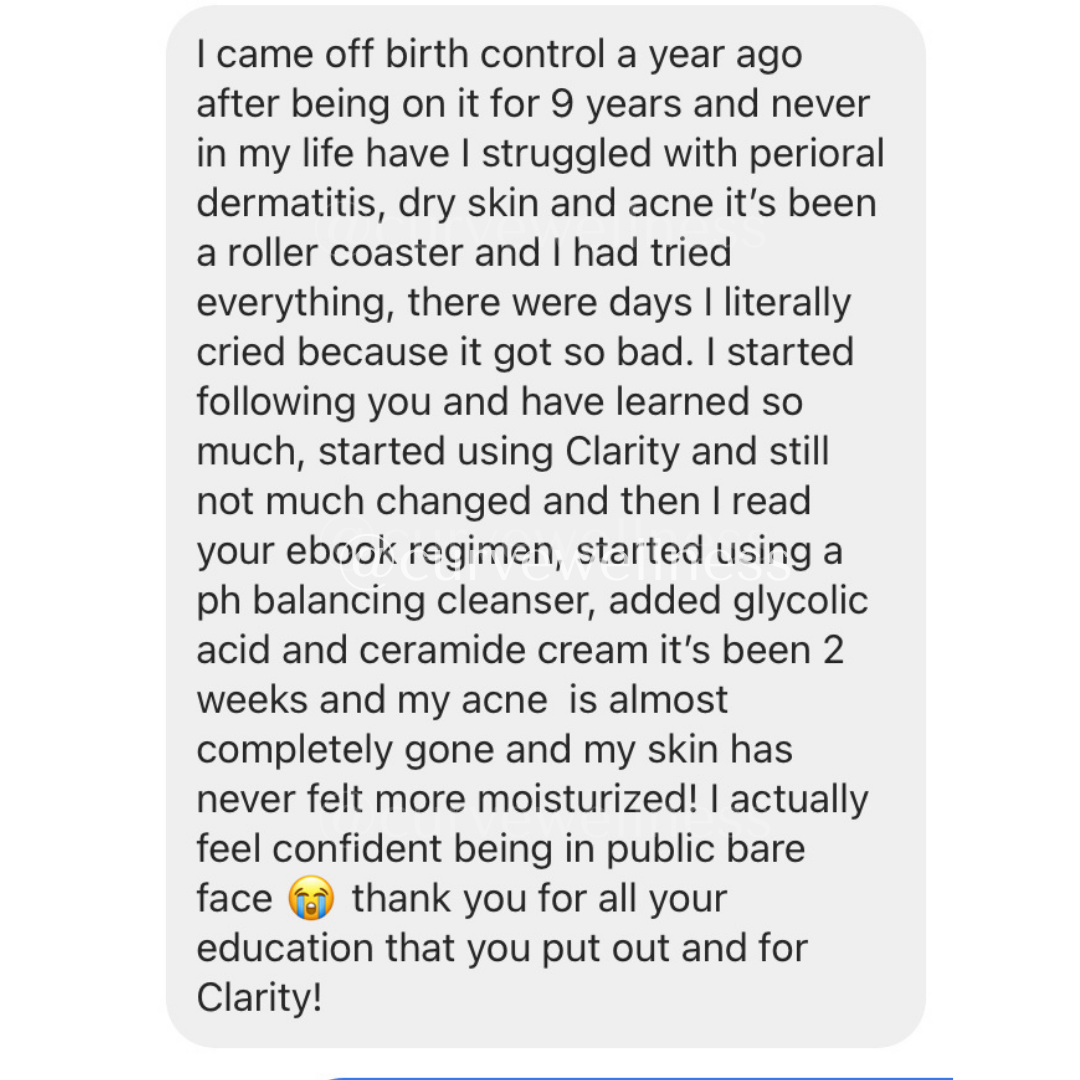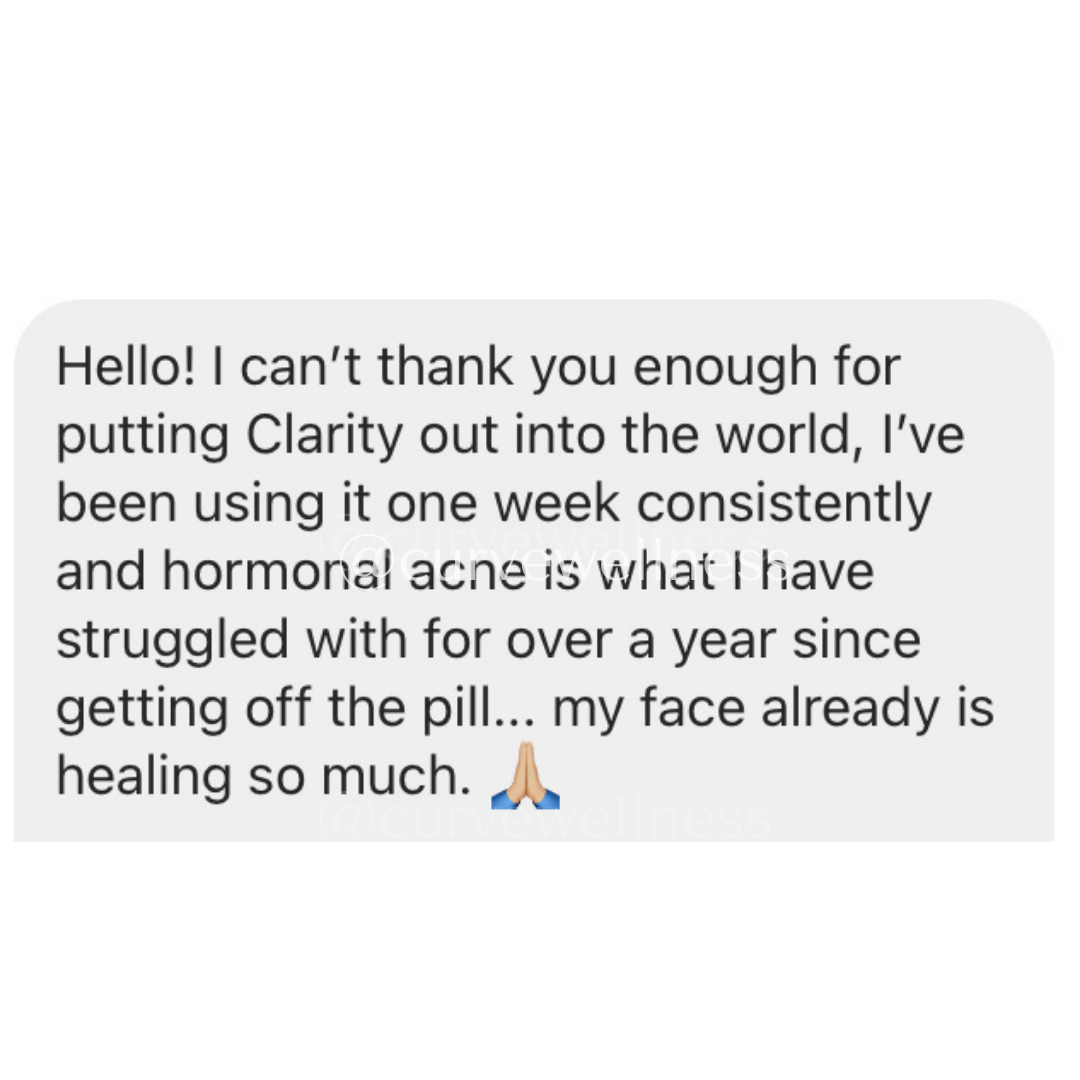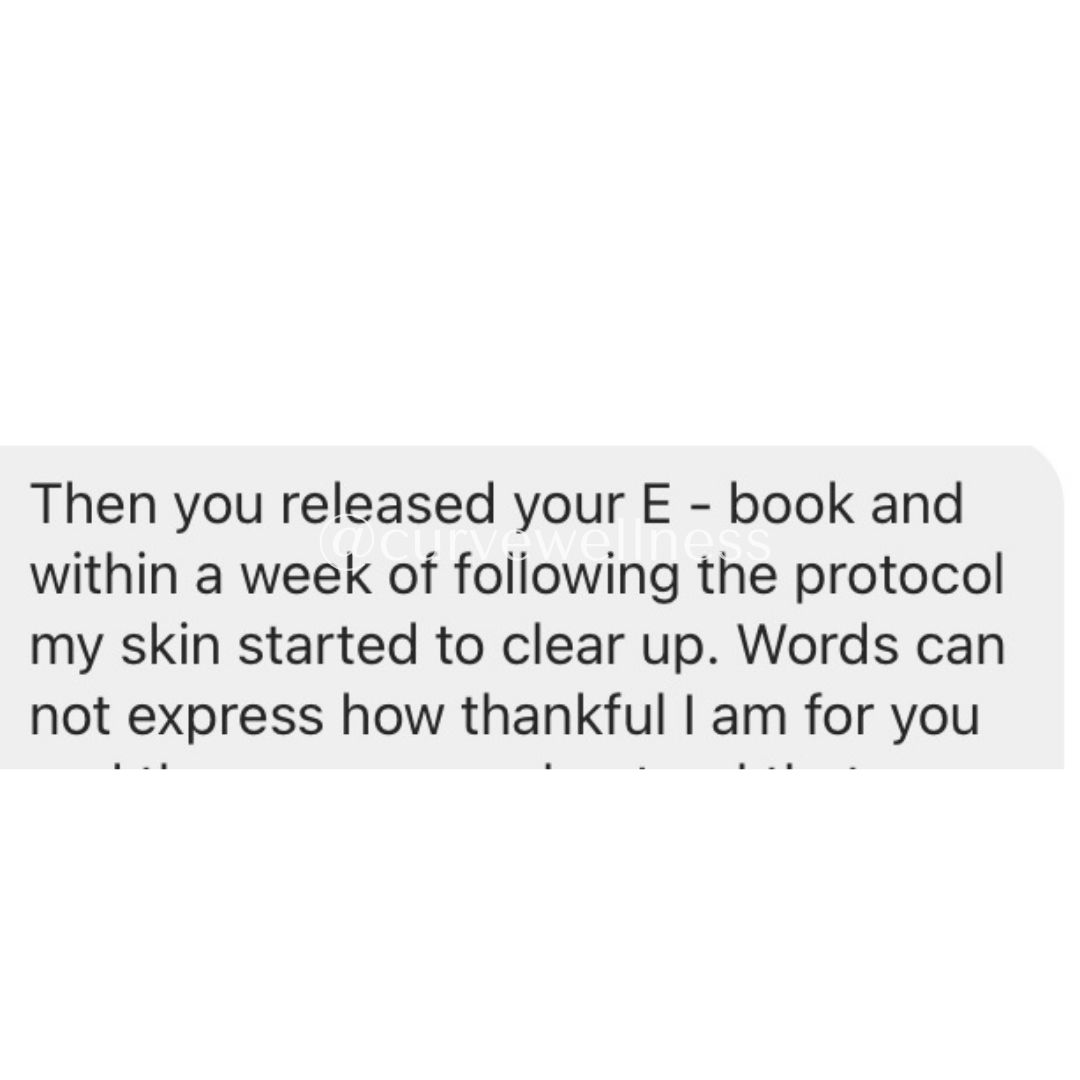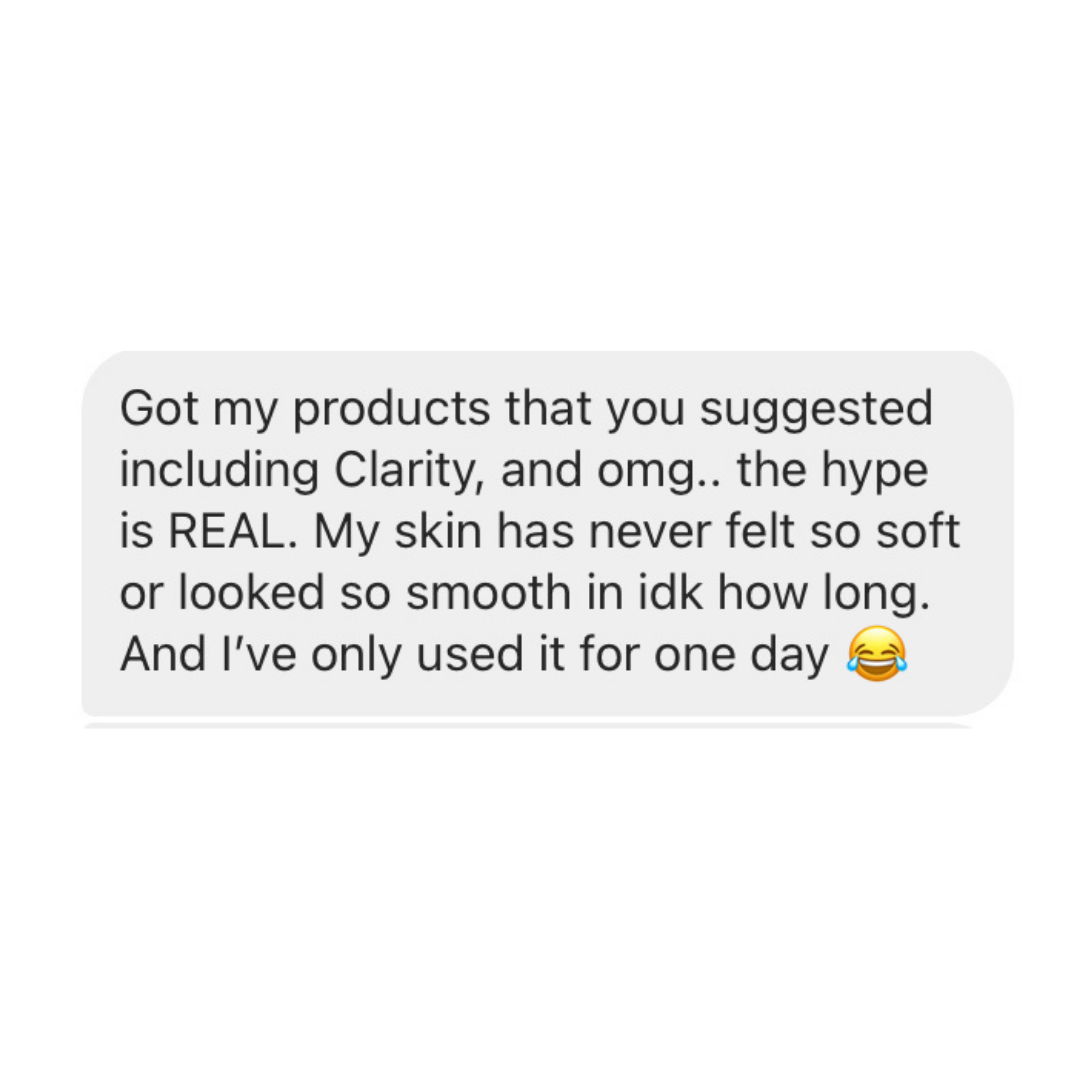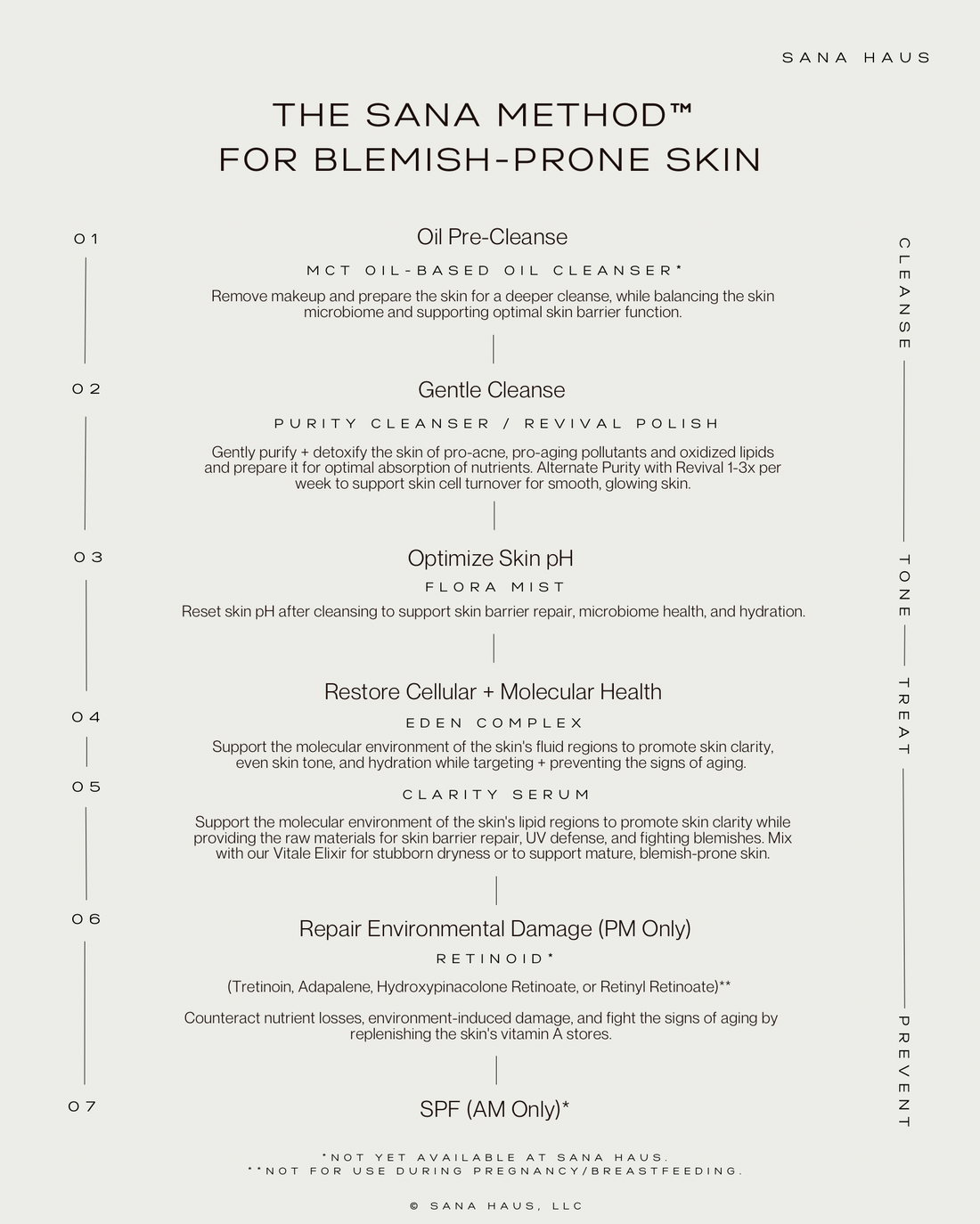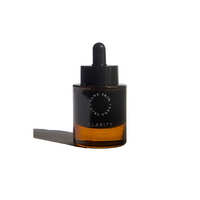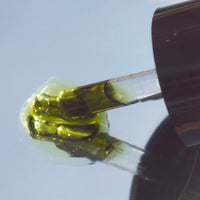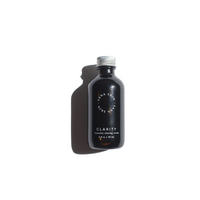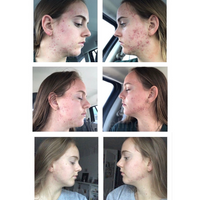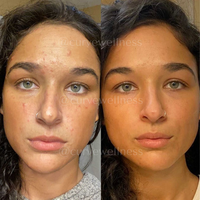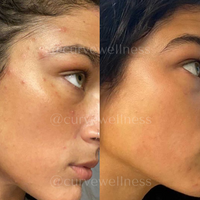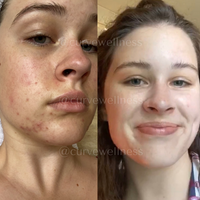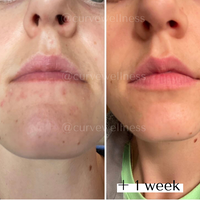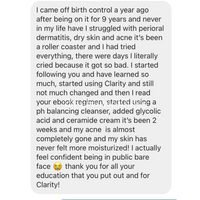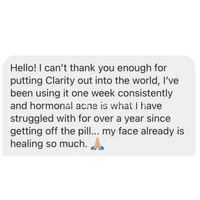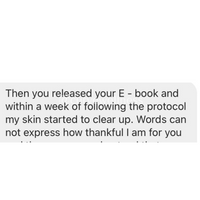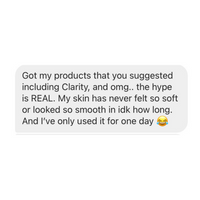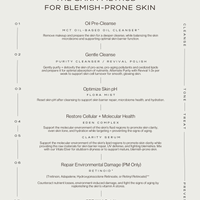 Clarity Bioactive Clearing Serum
FREE PERSONALIZED, EXPERT SKINCARE SUPPORT WITH EVERY PURCHASE | REFILL BOTTLES SHIP FREE
Description
Benefits
the regimen
ingredients
Directions
Our one-of-a-kind, 5-star rated Clarity serum is your secret weapon for clearing blemishes. This unique, instantly-absorbed, botanical formula targets + replenishes the documented deficiencies of acne-prone skin, giving your skin the necessary tools to reveal clearer, healthier skin from the inside out. And with nourishing, skin-barrier repairing lipids, clearer skin is never at the expense of your natural glow. Super absorbent, never greasy.
Want to know what to expect from a SANA SKIN regimen? Why these products are different? Questions about oils? See our super-informative FAQ page here!
Combats blemishes at the root. Potent botanical extracts, full-spectrum vitamin E, and nourishing plant oils combat inflammation, free radicals, and sebum abnormalities that are linked to acne formation.
Supports a radiant, even skin tone. Less inflammation means reduced redness and a more even, radiant skin tone. (Hello glow!)
Promotes faster healing of existing blemishes. Nourishing plant oils help your skin retain the cofactors needed for effective wound healing (did you know acne is actually a wound?).
Locks in hydration. Clarity's plant oils are packed with nourishing fatty acids that repair the skin barrier, a key factor in maintaining hydration in the skin.
Fortifies against pollution. We live in a polluted world, but your skin doesn't have to suffer because of it. Clarity's plant oils strengthen the barrier between your precious skin and the environment. Compatible with rosacea, perioral dermatitis, contact dermatitis, and eczema-prone skin.
An optimal skincare regimen for restoring skin health and clarity always includes three critical components: a gentle cleanser, an ingredient to balance skin pH, and an oil specifically rich in linoleic acid. Together, these three components ensure the skin is detoxified, repaired, protected, and hydrated, and are further enhanced by targeted actives such as antioxidants, antimicrobials, and exfoliants.
As the SANA SKIN community has expanded, we have learned a lot from our customers. Together, through trial and error, we've identified the most effective (and most problematic) ingredients for various skin types, including and most importantly, acne-prone skin. This has allowed us to expand our offerings in a community-led way, releasing formulas that are not only what our customers want to see from us, but also the products with the ingredients that our customers have come to know and love through experience.
Combined with intensive research on skin physiology, we believe we have curated a simple, holistic, yet, effective 3-step system that encompasses all the necessary components for healthy, radiant, clearer skin.
For acne-prone skin, we recommend a combination of our Purity cleanser, Flora mist, and Clarity serum. If you are sensitive to strong smells, we recommend swapping out or diluting the Clarity serum with our Vitale elixir.
For all other skin types, we recommend a combination of our Purity cleanser, Flora mist, and Vitale elixir.
30 mL / 1 fl oz (~30 day supply depending on use) | 60 mL / 2 fl oz (~ 60 day supply depending on use)
Ribes nigrum (Blackcurrant) Seed Oil*, Citrullus lanatus (Watermelon) Seed Oil*, Salvia hispanica (Chia) Seed Oil*, Squalane, Borago officinalis (Borago) Seed Oil*, Nigella sativa (Black Cumin) CO₂ Extract, Rubus idaeus L. (Raspberry) CO₂ Extract*, Opuntia ficus-indica L. (Prickly Pear) Seed Oil, Ethyl Linoleate, Oryza sativa (Rice) Bran CO₂ Extract*, Ethyl Ferulate, Ubiquinone, Dimethylmethoxy Chromanol (biomimetic antioxidant), Bixa orellana (Annatto) Seed Extract, Rosmarinus officinalis (Rosemary) CO₂ Extract*, Matricaria recutita L. (German Chamomile) Oil*, Tetrahexyldecyl Ascorbate, Phytosphingosine, Tanacetum annuum (Blue Tansy) Oil*, Cananga odorata (Ylang Ylang) Extract*, Cedrus atlantica (Cedarwood) Oil*, Cymbopogon martinii (Palmarosa) Oil*, Dimethyl Isosorbide (rice bran-derived), Limonene**.
*Organic.
**Natural essential oil component of blue tansy.
After cleansing and toning, apply anywhere between 8-15 drops of Clarity, gently massaging the oil into the skin.
see what people are saying
★★★★★
Since using Clarity I've never had such clear skin. I would typically breakout on my chin and cheeks with my cycle, now I rarely ever have a breakout. I've never felt so confident in my own skin.
★★★★★
I've been using this for 4 days and already see a difference which was insane to me. Nothing has ever worked this fast for me. Absolutely amazing product.
★★★★★
I bought this for my daughter and she loves this serum and it has helped tremendously with her skin. She is a teenager and struggled with acne and now she only get occasional break outs.
KEY INGREDIENTS
Full-spectrum vitamin e
The full spectrum of vitamin E molecules function better together than they do on their own - attributed to what researchers have called The Entourage Effect. The inclusion of full-sprectum vitamin E in the Clarity formula is inspired by clinical analyses suggesting acne-prone skin is deficient in vitamin E; orienting the formula around exactly what the skin needs and benefits from the most.
healing oil blend
A blend of high-quality, farm-to-bottle oil extracts, hand-selected for a specific composition of blemish-clearing fatty acids. This rigorous selection process ensures each oil offers the maximum therapeutic potential to acne-prone skin. Learn more about our selection process here!
German Blue Chamomile
German blue chamomile's deep, rich hue comes from a blue pigment called chamazulene. Chamazulene's anti-inflammatory properties impart a soothing, calming effect when applied to the skin.
Biomimetic Antioxidant Complex
Our biomimetic antioxidant complex is a synergistic blend of antioxidants that mimics that natural balance of antioxidants within the skin cell. This cellular antioxidant complex supports our full spectrum vitamin E in creating an environment that facilitates skin clarity.
A note from Sophia
When I really think about it, Clarity was ten years in the making.
My whole skin journey - the failed supplements, the failed diets, the failed skincare products, even the timing of when my health insurance expired (impeding my last-ditch access to drug-based treatments), and, as a result, the desperation to solve the puzzle through research - was the catalyst for the creation of the Clarity formula. If the "holy grail" that worked for everyone had really truly worked for me, Clarity may not have made it to the skincare market.
Even though my cystic acne journey felt grueling and never-ending, I am thankful today knowing that my experience has culminated in a product (and, now, regimen) that brings healing to many others who were in the same exact position as me.
LEARN MORE